Steve Garvey was my favorite player growing up. I have his base card in Topps for every year he played.
Steve Garvey Rookie Card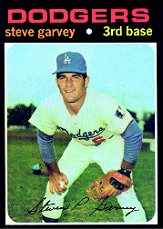 Topps 1997
Steve Garvey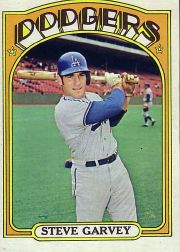 Topps 1972
Wade Boggs for my beloved Redsox and Don Mattingly battled for popularity in the 1980s
Wade Boggs Rookie Card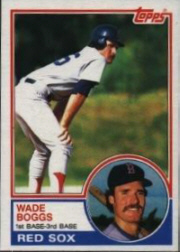 Topps 1983
Don Mattingly Rookie Card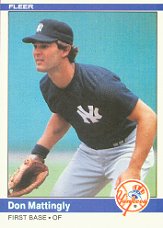 Fleer 1984
The mid 90's trinity of short stop supremes!
Derek Jeter Rookie Card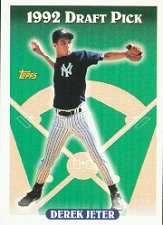 Topps 1993
Nomar Garicaparra Rookie Card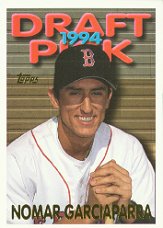 Topps 1995
Alex (A-Fraud) Rodriguez
SP 1994
The infamous steriod abusers! While Mark McGwire, Barry Bonds, and Roger Clemens aren't the only ones to abuse steriods, they sure became the poster children! Jason Giambi and Andy Pettite admitted to using. Sammy Sosa seems likely. Most laughably was Rafael Palmeiro waving his finger at congress that he never used steriods and then tested positive a few month later claiming he thought it was a B-12 shot. Right Raffy. Probably 80% of the players in the era where on it. The owners and commissioner all looked away while these guys brought baseball back from the strike year with big home runs. This tainted generation of ball players ruined it for the few that did not use it (like maybe Orel Hershiser and Pedro Martinez).
Barry Bonds Rookie Card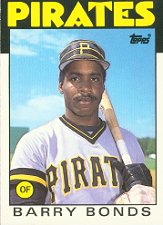 Topps Traded 1986
Mark McGwire Rookie Card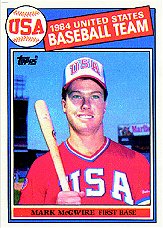 Topps 1985
Roger Clemens Rookie Card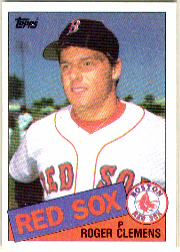 Topps 1985