Murphy and Harvin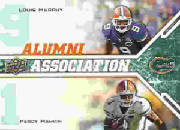 2009 NFL Draft Edition
Louis Murphy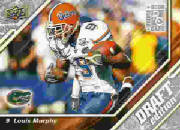 2009 NFL Draft Edition
Derrick Harvey
2009 Sage
The Gator's first National Championship in 1996 under Coach the Ball Coach is represented by the "Freak" LB Jevon Kearse, QB Danny Wuerfel, WR Ike Hilliard, and WR Reidel Anthony. This was the National Championship game in which they soundly defeated FSU. How fitting to win the first championship against your in state rival. Only Ike Hilliard went on to have any success in the NFL. Unfortunately Jevon Kearse would get robbed by a lot of injuries throughout his career.
Reidel Anthony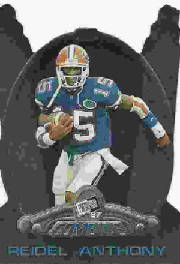 1997 Press Pass Combine
Shane Matthews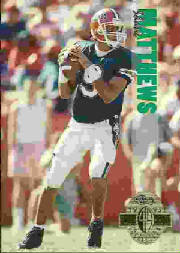 1993 Classic
Shane is here because he was the starter when I was a freshman at UF. He primarily backed up for the Bears in the NFL, only starting a handful of games.
Darren McFadden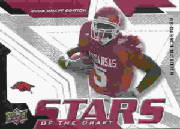 2008 NFL Draft Edition Stars of the Draft
Knowshon Moreno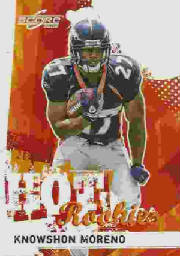 2008 Score Hot Rookies
I'm glad this combinaton of speed and power no longer runs for the Dawgs.
Sidney Rice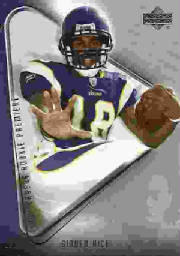 2007 NFL Rookie Premiere
DeSean Jackson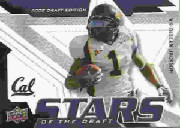 2008 NFL Rookie Premiere Stars of the Draft
Chris Johnson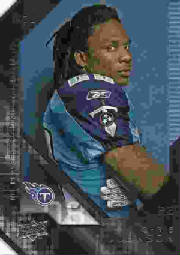 2008 NFL Rookie Premiere
Mark Sanchez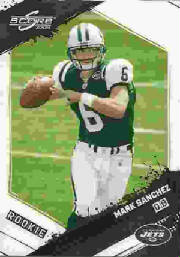 2009 Score
Larry Fitzgerald Rookie!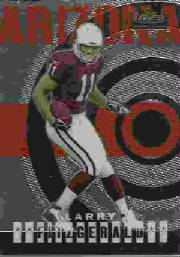 2004 Topps Finest
The Marshall Plan was key ingredient to the Rams superbowl win. Drafted from San Diego state, he had the moves, really studied film and could anticipate where the defenders would be, and could caught the ball down field.
Barry was the best in my book though. Out of Oklahoma State, he electrified Lions fans with his uncanny ability to laterally side step, turn on a dime, and explode up field. He played the game with class, rarely talking about himself. He just let his sick skills on the grind iron speak for themselves.